Payment in Currencies Other than United States Dollars
Non-US$ Currency Order Form
When you make payment online with credit cards or PayPal, it does not matter what currencies are shown on the website. You will be making payment in your own local currency. The credit card companies or PayPal will perform the currency conversion.
If you prefer to have your order quoted in your preferred currency and make payment in that currency, you are welcomed to do so.
You Can Buy With These Currencies!
Australian Dollar - $ AUD
British Pound - £ GBP
Canadian Dollar - $ CAD
Czech Koruna - CZK
Danish Kroner - DKK
Euro - € EUR
Hong Kong Dollar - $ HKD
Hungarian Forint - HUF
Israeli New Shekel - ILS
Japanese Yen - ¥ JPY
Mexican Peso - $ MXN
New Zealand Dollar - $ NZD
Norwegian Krone - NOK
Philippine Peso - P PHP


Dollar - $ SGD
Polish Zloty - PLN
Russian Rouble - RUB
Swedish Krona - SEK
Swiss Franc - CHF
Taiwan New Dollar - NT$ TWD
Thai Baht - ฿ THB
As the shopping cart on this website is programmed to process US$ (United States Dollars), you will have to use the 'Non-US$ Currency Order Form' above.
Here are the Steps
1. Fill in the order form and send it to us.
2. An invoice will be emailed to you. Click the order link in that email and follow through.
The Steps in Detail
Step 1. Fill in the Order Form
Enter your name and email address.

Select your preferred currency for payment from the drop down menu.

Enter the quantity, item description and size if applicable in the way shown below.

Basically, we just need you to tell us clearly what you want to buy, how many of it and what size do you want it in.
It is good to copy and paste the item description. The item descriptions are found on the right of the jewelry photographs.
If you have any instructions, comments or questions for us, enter them in the Notes/Questions text box.

Click the 'Send' button.
Step 2. Conclude Your Order Through Invoice Email
We shall process your order form and an invoice in your selected currency shall be sent to you through PayPal.com.
PayPal acts as our payment processor. You do not need to have a PayPal account.
You can make payment with your credit card or through your PayPal account if you have one.
The currency conversions are done with www.xe.com. Go ahead and use the currency converter to look at the jewelry prices and shipping fee in your currency. Click
The currency exchange rate is based on the day we process your order form. As currency exchange rates vary from day to day, there may be a small amount difference in your invoice if we are using the currency converter on different days.
Look through the invoice and check that it is correct.
Click the link that looks like this: https://www.paypal.com/sg/cmd=_prq&id=GQyVOPLj7M57s3dMLZw5Hy-Hovb-1P1Hb
You shall be directed to the payment processing page that looks like this: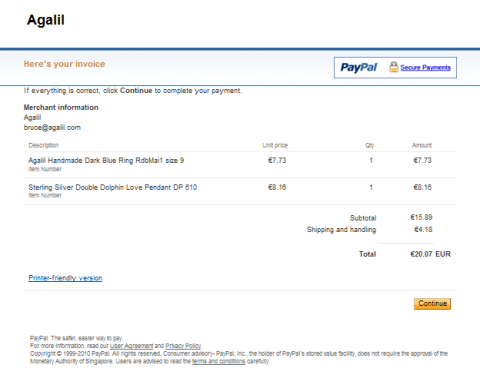 Check that the invoice is correct and click

After this, the procedure is the same as for shoppers using the shopping cart on this website.
So lets head over there to continue...