Jewelry in Burgundy
The term burgundy jewelry sure has an exotic ring to it.
Can we attribute this to 'Bourgogne' (French for Burgundy wine) or Burgundy, the region of France that produces this wine?
| | | |
| --- | --- | --- |
| Burgundy was used as a color name only in 1915 as a deep shade of red associated with the Burgundy wine. | | |
This exotic colour is best understood and appreciated through acquaintance with red jewelry as burgundy shares most of red's elements, though restrained.
Wearing Burgundy
Burgundy is an exotic, rich color that reminds of Turkish carpets and old wines.
A darker and mellower tone of red, burgundy suggests wisdom and maturity.
Either sundown engagements or daylight social affairs, burgundy makes its mark through prominence and authority.
Women in tune with contemporary fashion recognize the uniqueness of the burgundy color as the torch-bearer of today's vogue.
For an outstanding casual look, put on denims and complete with burgundy tops.
Colour Matching Tips
With ivory coloured backdrops, jewelry in burgundy is reminiscent of lush and ornate Victorian parlors

Burgundy themed jewelry against golden and bronze apparel conveys affluence and wealth

When purple is combined with burgundy, the look is regal and dignified

Burgundy jewelry harmonizes wonderfully with green and emerald wear

Looking for a fabulous color to go with burgundy? Try eggshell blue

Some shades of light blue forms a sophisticated combination with burgundy

Sage green is another color that goes beautifully with burgundy

So is deep dark green

Burgundy jewellery highlights the pinkish earth tones in beige and whips up a dash of warmth and sophistication

Similar effects can be seen with tan

Get Discounts on Our Jewelry!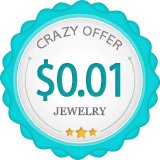 Join our mailing list (it's free to join). You'll enjoy:
exclusive special offers
access exclusive jewelry designs
secrets to enhancing relationships with your animal lover friends
Don't miss the current '
Buy Jewelry with 1 Cent
' Promotion. Tell us where to email information below or
learn more