Handmade Toe Rings!
What will they think of next?
We designed these handmade toe rings for you to express yourself through your favorite colors and to match your clothing. Click on the photographs or links to view the different designs and specially matched colour schemes.
| | | | |
| --- | --- | --- | --- |
| Dark Blue | Blue | Turquoise | Purple |
| Silvery Lavender | Rose Pink | Hot Pink | Burgundy |
| | Emerald Green | Black | |
Expression of color through our handmade toe rings is intense as the colour is not just found on the beads but on the band as well. Your favorite color runs throughout the handmade toe ring.
This is a concept we have come up with so you are unlikely to find toe rings like these anywhere else but are these concepts useful? Color themed toe rings for self expression, color themed toe rings to match clothing.
Why don't you tell us.
Do you have any interest in handmade toe rings designed and crafted on such concepts?
Do the colors we have appeal to you?
Would you like us to craft toe rings on other color themes?
We have other designs in mind but if there is little interest in this type of toe rings, then we can't proceed.
Use the simple form below to email us.
If you would like us to respond to your message, please enter your first name and e-mail address as well. (please enter your e-mail address correctly)
If not, just enter your message and click the 'Send' button.
Your information is confidential. It will not be shared with anyone.
Design Challenges
Handmade toe rings are difficult to design and craft. One challenge we have set for ourselves is to make them size adjustable. To do so is tricky, compared to rings which come in fixed sizes.
We are obsessed with quality and want to craft jewelry that will last.
Toerings are bent when they are put on and removed. Not many materials are malleable enough. They break after repeated bending.
Eureka! (... no, that's not it. Something else was exclaimed.) We managed to discover a material agile enough. We took turns to bend these prototypes back and forth for days while watching TV. Look brand new after all the abuse! Amazing. They passed the test.
To boot, they are supple. Easy to wear and take off.
Due to where they are worn, toerings generally don't last as long as other jewelry. It is one of our concerns as well.
The enamel plating on our handmade toerings is really tough. They should last much better than toe rings of a similar price range.
Customization
Agalil handmade toe-rings have an internal diameter of 10mm(ends touching). As they are free size, they should fit. However, if you need a different size after trying them on, drop us an e-mail and specify the required internal diameter with the ends touching. We'll see what we can do.
Toe-ring sizes are more difficult to control than rings. It may take a while. We have to make adjustments to moulds and stuff. You can pick your own colour scheme and bead combinations to a certain extent.
Get Discounts on Our Jewelry!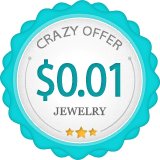 Join our mailing list (it's free to join). You'll enjoy:
exclusive special offers
access exclusive jewelry designs
secrets to enhancing relationships with your animal lover friends
Don't miss the current '
Buy Jewelry with 1 Cent
' Promotion. Tell us where to email information below or
learn more

Handcrafted Sterling Silver Toe Rings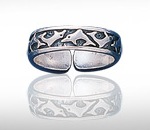 Have a look at our high quality sterling silver toe rings about the sea and sea creatures.
Not only is the craftsmanship excellent, they come with a good solution to the problem of silver tarnish.
Click sterling silver sea life toe rings to see the full range.